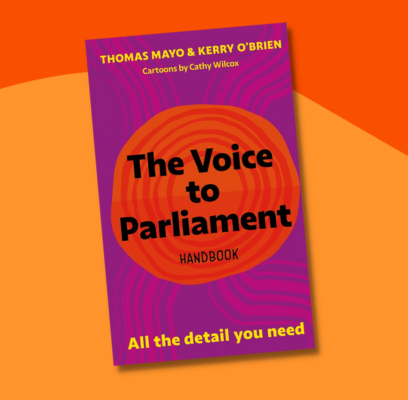 Taking top seller spot for June with 5,661 sales (+2,425) was, 'The Voice to Parliament Handbook: All the Detail You Need'. Indigenous leader Thomas Mayo and acclaimed journalist Kerry O'Brien have written this handbook to answer the most commonly asked questions about why the Voice should be enshrined in the Constitution, and how it might function to improve policies affecting Indigenous communities, and genuinely close the gap on inequalities at the most basic level of human dignity.
'The Bookbinder of Jericho' by Pip Williams dropped from first to second position selling 1,839 copies (-362).
Popular title, 'Lessons in Chemistry' jumped back up to top three with 1,348 sales (+313).
Cover (Barcode)
Title
Community sold
Rank

9781741178869
The Voice to Parliament Handbook: All the Detail You Need
5661
1

9781922806628
The Bookbinder of Jericho
1839
2

9781804990926
Lessons in Chemistry
1348
3

9780008600303
Yellowface
1323
4

9781776957156
Pearl in a Whirl: How one fluffy cat braved the floods
885
5

9780571376483
Demon Copperhead
874
6

9781529115543
Tomorrow, and Tomorrow, and Tomorrow
800
7

9781760980139
RecipeTin Eats: Dinner: 150 Recipes from Australia's Most Popular Cook
752
8

9781460764022
The Queen Is Dead: The passionate and powerful bestselling book by critically acclaimed journalist and author of Tears of Strangers and Talking to My Country
746
9

9780571368709
Small Things Like These
719
10

9781760630485
Homecoming
685
11

9781922400277
The Dictionary of Lost Words
668
12

9781838858636
The Creative Act: A Way of Being
643
13

9781526660312
The Wind Knows My Name (HB)
642
14

9780857527509
Romantic Comedy
620
15

9781922458766
Limberlost
608
16

9781787303799
Killing Moon
585
17

9781529043532
Atlas: The Story of Pa Salt (Seven Sisters #8)
551
18

9781804710432
The Covenant of Water
535
22

9780857529299
Pageboy: A Memoir
512
23

9781922790309
Did I Ever Tell You This? A Memoir
505
24

9781529029581
Before the Coffee Gets Cold (#1)
484
25

9781776920747
Pet
478
27

9781760644215
Voice of Reason: On Recognition and Renewal: Quarterly Essay 90
467
28

9780733341502
The Remarkable Mrs Reibey (PB)
459
29

9780143777267
Broken Bay
457
30

9780241628270
Hello Beautiful
450
31

9781761294457
Let the Games Begin! (the Bad Guys: Episode 17)
435
32

9780702265501
The Jaguar
431
33

9781847941831
Atomic Habits
427
34

9781760762827
Law: The Way of the Ancestors (First Knowledges Series)
424
35

9781785044557
Outlive: The Science and Art of Longevity
423
36

9780241421314
August Blue
416
37

9780349437002
Fourth Wing (#1 The Empyrean)
415
38

9781783784271
Birnam Wood
407
39

9781761067846
Runt
404
40
 
9780241997932
Happy Place: The new #1 Sunday Times bestselling novel from the author of Beach Read and Book Lovers - a perfect summer holiday read
401
41

9781760644536
Half Deaf, Completely Mad: The Chaotic Genius of Australia's Most Legendary Music Producer (Tony Cohen)
400
42

9781991006325
This is ADHD
393
43

9781925818925
Cold Enough for Snow
381
44

9780241627686
The Sun and the Star (The Nico Di Angelo Adventures)
378
45

9781529105100
The Boy, The Mole, The Fox and The Horse
377
46

9780008484392
Knowing What We Know: The Transmission of Knowledge: From Ancient Wisdom to Modern Magic
365
47

9781471183683
The Wager: A Tale of Shipwreck, Mutiny and Murder
365
48

9781784743741
The Guest
360
49

9781338801910
Twenty Thousand Fleas Under the Sea (Dog Man #11)
360
50

9780733649875
Horse
356
51

9781761180040
Custodians: Wylah the Koorie Warrior 2
346
52

9780008581435
Robodog
345
53