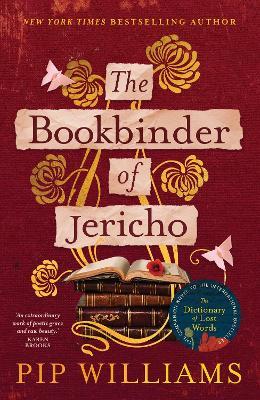 'The Bookbinder of Jericho' by Pip Williams took an emphatic lead to the Best Seller list for April selling 5,698 copies (+ 3,755 since last month).
Kate Morton's 'Homecoming' came in second with 1,883 copies.
'Lessons in Chemistry' still holds ground coming in a close third with 1,852 (-236) copies sold.
Other titles from our records that had large sale numbers include:
'Bulldozed: Scott Morrison's Fall and Anthony Albanese's Rise' 7,571 copies in December 2022.
'Spare' by Prince Harry 4,653 copies in January 2023
 'Lessons in Chemistry', 4,916 in December 2022
'All Our Shimmering Skies' 4,402 copies in October 2020.
| over (Barcode) | Title | Community sold | Rank |
| --- | --- | --- | --- |
| 9781922806628 | The Bookbinder of Jericho | 5698 | 1 |
| 9781760630485 | Homecoming | 1883 | 2 |
| 9781804990926 | Lessons in Chemistry | 1852 | 3 |
| 9780857527509 | Romantic Comedy | 1466 | 4 |
| 9781922790309 | Did I Ever Tell You This? A Memoir | 1439 | 5 |
| 9781338801910 | Twenty Thousand Fleas Under the Sea (#11 Dog Man) | 1336 | 6 |
| 9781783784271 | Birnam Wood | 1158 | 7 |
| 9780008581435 | Robodog | 998 | 8 |
| 9780571368709 | Small Things Like These | 939 | 9 |
| 9781922400277 | The Dictionary of Lost Words | 937 | 10 |
| 9781784744656 | Tomorrow, and Tomorrow, and Tomorrow | 852 | 11 |
| 9781760980139 | RecipeTin Eats: Dinner: 150 recipes from Australia's most popular cook | 705 | 12 |
| 9781761067273 | Return to Valetto | 698 | 13 |
| 9781529029581 | Before the Coffee Gets Cold (Tales from the Café #1) | 686 | 14 |
| 9781785044557 | Outlive: The Science and Art of Longevity | 675 | 15 |
| 9781760644208 | The Wires That Bind: Electrification and Community Renewal: Quarterly Essay 89 | 603 | 16 |
| 9781761067846 | Runt | 582 | 17 |
| 9781847941831 | Atomic Habits | 551 | 18 |
| 9781925818925 | Cold Enough for Snow | 524 | 19 |
| 9780571332786 | Old God's Time | 510 | 20 |
| 9781760876562 | Aphrodite's Breath: A mother and daughter's Greek Island adventure | 510 | 21 |
| 9781529062021 | Simply Lies | 508 | 22 |
| 9781760899455 | Against All Odds: The Inside Account of the Thai Cave Rescue and the Courageous Australians at the Heart of It | 505 | 23 |
| 9781761043857 | The Tea Ladies | 498 | 24 |
| 9781761049330 | Bluey: Happy Easter: A Puffy Sticker Colouring Book | 485 | 25 |
| 9781914502064 | The Seven Moons of Maali Almeida | 479 | 26 |
| 9781529105100 | The Boy, The Mole, The Fox and The Horse | 476 | 27 |
| 9781787462144 | Daisy Jones and The Six | 474 | 28 |
| 9780571377305 | Shy | 469 | 29 |
| 9781922458766 | Limberlost: WINNER The Age Book of the Year Awards 2023 | 457 | 30 |
| 9781526622570 | The Earth Transformed: An Untold History | 441 | 31 |
| 9780241628270 | Hello Beautiful | 424 | 32 |
| 9781471156267 | It Ends With Us (#1) | 419 | 33 |
| 9780733649165 | The Anniversary | 415 | 34 |
| 9781761102943 | The Seven Husbands of Evelyn Hugo | 404 | 35 |
| 9780349727219 | I Have Some Questions For You | 401 | 36 |
| 9780857529411 | Go as a River | 399 | 37 |
| 9780241988268 | The Thursday Murder Club (#1) | 395 | 38 |
| 9781784744854 | Old Babes in the Wood | 392 | 39 |
| 9781529135510 | I Will Find You | 385 | 40 |
| 9780008421793 | Cleopatra and Frankenstein | 378 | 41 |
| 9781529153323 | So Shall You Reap (Brunetti #32) | 375 | 42 |
| 9780733645143 | Prettier if She Smiled More | 371 | 43 |
| 9781922725325 | Praiseworthy | 355 | 44 |
| 9781786330895 | Ikigai: The Japanese secret to a long and happy life | 346 | 45 |
| 9781922848604 | Pasta! | 343 | 46 |
| 9781460761854 | Crushing | 342 | 47 |
| 9780008529321 | Still Life | 331 | 48 |
| 9781785042720 | The Myth of Normal: Trauma, Illness & Healing in a Toxic Culture | 326 | 49 |
| 9781398518179 | It Starts with Us (#2) | 324 | 50 |