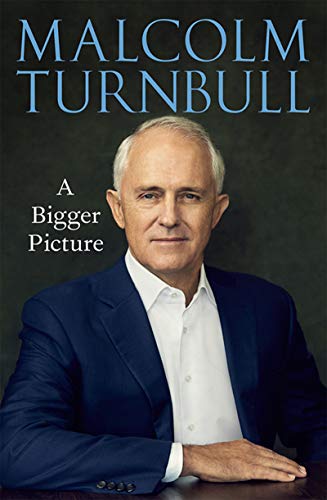 'A Bigger Picture (Malcolm Turnbull, HB)' was #1 in April with 1762 units sold.
'Phosphorescence: On Awe, Wonder and Things That Sustain You When the World Goes Dark' was #2 with 1243 sales.
'Where the Crawdads Sing' dropped down one spot to #3 with 1077 sales (- 127)
As a small aside the combined sales of the six 'Bluey' titles in the top 50 are greater than Malcolm Turnbull's 'A Bigger Picture'.
---
| | | | |
| --- | --- | --- | --- |
| 9781743795637 | A Bigger Picture (Malcolm Turnbull, HB) | 1762 | 1 |
| 9781460757154 | Phosphorescence: On Awe, Wonder and Things That Sustain You When the World Goes Dark | 1243 | 2 |
| 9781472154668 | Where the Crawdads Sing | 1077 | 3 |
| 9780008349141 | Slime | 731 | 4 |
| 9781760896621 | Bluey Big Backyard A Colouring Book | 728 | 5 |
| 9781925972597 | The Dictionary of Lost Words | 608 | 6 |
| 9780007480999 | The Mirror And The Light (#3 Wolf Hall Trilogy) | 594 | 7 |
| 9781760896898 | Bluey : Easter Fun – A Craft Book | 542 | 8 |
| 9781760641405 | See What You Made Me Do: Power, Control and Domestic Violence | 491 | 9 |
| 9780241984994 | Girl, Woman, Other (PB) | 471 | 10 |
| 9781472261410 | American Dirt | 452 | 11 |
| 9781760894030 | Bluey: Time to Play! Sticker Activity Book | 443 | 12 |
| 9781760893194 | The Dickens Boy (PB) | 430 | 13 |
| 9781460757765 | Boy Swallows Universe | 430 | 14 |
| 9781460756799 | The Good Turn (#3 Cormac Reilly) | 416 | 15 |
| 9780571334650 | Normal People | 367 | 16 |
| 9781509882816 | The Glass Hotel | 357 | 17 |
| 9781760896638 | Bluey : Bob Bilby | 319 | 18 |
| 9781785038723 | Falastin – A Cookbook | 318 | 19 |
| 9781785043352 | Untamed: Stop Pleasing, Start Living | 312 | 20 |
| 9781526612151 | Such a Fun Age | 309 | 21 |
| 9781784743482 | Redhead by the Side of the Road | 302 | 22 |
| 9781472223807 | Hamnet (PB) | 297 | 23 |
| 9781921248016 | Dark Emu: Aboriginal Australia and the Birth of Agriculture | 296 | 24 |
| 9780718179755 | Grown-Ups | 286 | 25 |
| 9781460755402 | The Ruin (#1 Cormac Reilly) | 267 | 26 |
| 9781526614957 | The Dutch House | 259 | 27 |
| 9781760292010 | The Weekend | 256 | 28 |
| 9781760894054 | Bluey : The Beach (A Lift-the-Flap Book) | 242 | 29 |
| 9781460758632 | Sheerwater | 230 | 30 |
| 9781509874521 | Walk the Wire (#6 Amos Decker) | 230 | 31 |
| 9781529105100 | The Boy, The Mole, The Fox and The Horse | 225 | 32 |
| 9781760875169 | Bruny | 223 | 33 |
| 9780733630682 | There Was Still Love | 222 | 34 |
| 9780734418074 | Nevermoor: The Trials of Morrigan Crow (#1 Nevermoor) | 219 | 35 |
| 9780008172145 | Eleanor Oliphant Is Completely Fine | 216 | 36 |
| 9781741176704 | Australia Map Puzzle: Book and 252 Piece Jigsaw Puzzle | 213 | 37 |
| 9780996099936 | Have You Filled a Bucket Today? A Guide to Daily Happiness for Kids (PB) | 209 | 38 |
| 9780733642005 | The Loudness of Unsaid Things | 208 | 39 |
| 9780099558781 | A Gentleman in Moscow | 206 | 40 |
| 9780008386252 | Seasons of War (#13 Skulduggery Pleasant) | 202 | 41 |
| 9781760894047 | Bluey: Fruit Bat (A Glow-in-the-Dark Book) | 202 | 42 |
| 9780143304333 | Blueback (Young Readers Edition) | 197 | 43 |
| 9781526611642 | Three Women (PB) | 196 | 44 |
| 9780099511021 | Educated: A Memoir | 196 | 45 |
| 9781743836668 | Vote Weirdo (#14 WeirDo) | 193 | 46 |
| 9781742833477 | ANZAC Biscuits | 191 | 45 |
| 9780733641886 | The Paris Secret | 188 | 46 |
| 9781760877521 | E-Boy (#1 E-Boy) | 185 | 47 |
| 9781922268600 | Grandmothers: Essays by 21st-Century Grandmothers | 185 | 48 |
| 9781405272193 | The Enchanted Wood (The Faraway Tree #1) | 185 | 49 |
| 9781760850784 | Fast Asleep | 183 | 50 |