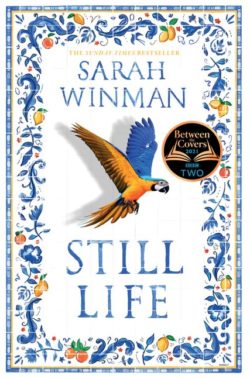 Sarah Winman's "Still Life" moved up from second last month to top position in March with 848 sales (-23).
Close behind was Trent Dalton's "Love Stories Uplifting True Stories about Love" with 789 sales (-404).
Popular author, Marian Keyes moved up from 11th into third with "Again Rachel", selling 732 copies (+140).
| Cover (Barcode) | Title | Community sold | Rank |
| --- | --- | --- | --- |
| 9780008283360 | Still Life | 848 | 1 |
| 9781460760932 | Love Stories | 789 | 2 |
| 9780241441138 | Again, Rachel | 732 | 3 |
| 9781761044922 | Bluey: Easter | 718 | 4 |
| 9781529151619 | Give Unto Others | 656 | 5 |
| 9780008385095 | The Paris Apartment | 614 | 6 |
| 9781529105100 | The Boy, The Mole, The Fox and The Horse | 608 | 7 |
| 9781760879662 | The Mother | 588 | 8 |
| 9780143788096 | Bob Hawke: Demons and Destiny | 546 | 9 |
| 9781784744076 | The Promise | 533 | 10 |
| 9781786332530 | The Lincoln Highway | 516 | 11 |
| 9780241988268 | The Thursday Murder Club (#1) | 507 | 12 |
| 9781761102943 | The Seven Husbands of Evelyn Hugo | 504 | 13 |
| 9781471156267 | It Ends With Us: The emotional #1 Sunday Times bestseller | 502 | 14 |
| 9781760878306 | Don't Be Too Polite, Girls: A memoir | 491 | 15 |
| 9781785043772 | Atlas of the Heart: Mapping Meaningful Connection and the Language of Human Experience | 476 | 16 |
| 9781760877200 | The First Astronomers: How Indigenous Elders read the stars | 470 | 17 |
| 9781760556457 | Devotion | 468 | 18 |
| 9780571364909 | Klara and the Sun | 458 | 19 |
| 9781760980085 | The Happiest Man on Earth | 450 | 20 |
| 9781526620163 | Stolen Focus: Why You Can't Pay Attention | 447 | 21 |
| 9781472154668 | Where the Crawdads Sing | 437 | 22 |
| 9781847941831 | Atomic Habits (PB) | 408 | 23 |
| 9781526648341 | Violeta | 373 | 24 |
| 9781855147188 | Shakespeare to Winehouse - Icons & Identities | 372 | 25 |
| 9781760643874 | The Big Switch: Australia's Electric Future | 367 | 26 |
| 9781761150111 | Love & Virtue | 362 | 27 |
| 9781760785024 | Apples Never Fall | 354 | 28 |
| 9781925818925 | Cold Enough for Snow | 351 | 29 |
| 9781761120480 | Ninja Fish! (#9 Ninja Kid) | 343 | 30 |
| 9781529077483 | To Paradise | 343 | 31 |
| 9780241425435 | The Man Who Died Twice (#2 Thursday Murder Club) | 324 | 32 |
| 9780008478650 | Cloud Cuckoo Land | 323 | 33 |
| 9780349015491 | Love Marriage | 318 | 34 |
| 9781408726600 | Verity: The thriller that will capture your heart and blow your mind | 313 | 35 |
| 9780241470725 | The Paper Palace | 310 | 36 |
| 9781761065170 | Remember Me | 308 | 37 |
| 9780733647758 | The Fast 800 Keto: Eat Well, Burn Fat, Manage your Weight Long Term | 304 | 38 |
| 9781760984113 | The Magician | 301 | 39 |
| 9781526625472 | House of Sky and Breath (#2 Crescent City) | 299 | 40 |
| 9781760643072 | The Shortest History of the Soviet Union | 293 | 41 |
| 9781529109481 | Ottolenghi Test Kitchen: Shelf Love | 292 | 42 |
| 9781922400277 | The Dictionary of Lost Words | 290 | 43 |
| 9780008435738 | The Maid | 288 | 44 |
| 9780571365432 | Beautiful World, Where Are You | 285 | 45 |
| 9781922711038 | Son of Sin | 281 | 46 |
| 9780241500996 | Taste: My Life Through Food | 281 | 47 |
| 9780340960196 | Dune | 274 | 48 |
| 9780099558781 | A Gentleman in Moscow | 269 | 49 |