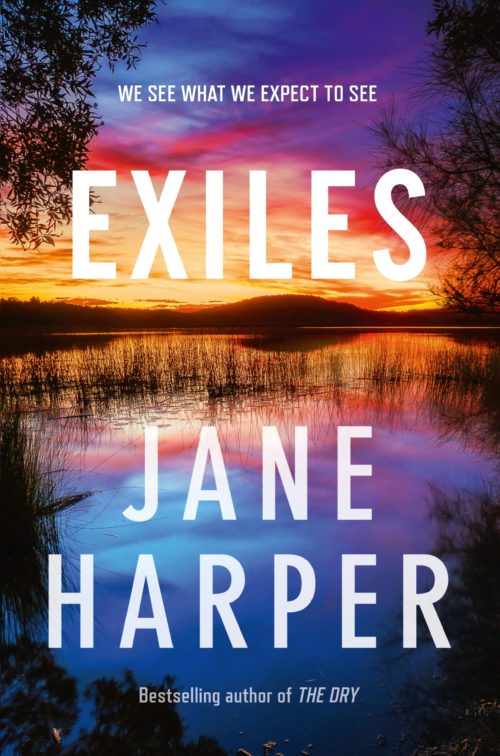 New to the list and taking top spot for September's Bestsellers was"Exiles" by Jane Harper with 2,911 sales.
'The 156-Story Treehouse", the twelfth book in the illustrated chapter book series by Andy Griffiths and Terry Dalton was second with 2,206 sales.
Richard Osman's "The Bullet That Missed" (#3 The Thursday Murder Club) came in close behind with 2, 195 sales.
| Cover (Barcode) | Title | Community sold | Rank |
| --- | --- | --- | --- |
| 9781760783952 | Exiles | 2911 | 1 |
| 9781760986605 | The 156-Storey Treehouse | 2206 | 2 |
| 9780241512432 | The Bullet That Missed (#3 The Thursday Murder Club) | 2195 | 3 |
| 9781472223852 | The Marriage Portrait | 1931 | 4 |
| 9780751584189 | The Ink Black Heart (#6 Cormoran Strike) | 1717 | 5 |
| 9781787333987 | Lessons | 1548 | 6 |
| 9780857528131 | Lessons in Chemistry | 1155 | 7 |
| 9781471156267 | It Ends With Us | 802 | 8 |
| 9781399705424 | Fairy Tale | 717 | 9 |
| 9781472154668 | Where the Crawdads Sing | 678 | 10 |
| 9780702303517 | The Baddies | 670 | 11 |
| 9781761066924 | Wildflowers | 659 | 12 |
| 9781925773590 | Bodies of Light: Winner of the 2022 Miles Franklin Literary Award | 639 | 13 |
| 9781529152135 | Carrie Soto Is Back | 639 | 14 |
| 9780733639678 | Horse | 628 | 15 |
| 9781760643560 | Uncivil Wars: How Contempt Is Corroding Democracy: Quarterly Essay 87 | 628 | 16 |
| 9781529029581 | Before the Coffee Gets Cold | 624 | 17 |
| 9780008529321 | Still Life | 623 | 18 |
| 9780733648342 | So You Want To Live Younger Longer?: The ultimate guide to longevity from Australia s most trusted doctor | 619 | 19 |
| 9781529089431 | Before Your Memory Fades (Before the Coffee Gets Cold #3) | 618 | 20 |
| 9781922458797 | The Settlement | 615 | 21 |
| 9781761102394 | The Boy from Boomerang Crescent | 596 | 22 |
| 9780241988268 | The Thursday Murder Club (#1) | 547 | 23 |
| 9780241473689 | Nothing More to Tell | 545 | 24 |
| 9781760988050 | The Ninth Life of a Diamond Miner: A memoir | 538 | 25 |
| 9780241431108 | One: Simple One-Pan Wonders | 510 | 26 |
| 9781509889624 | The Rising Tide | 508 | 27 |
| 9781761065781 | The Girl Who Fell From the Sky | 500 | 28 |
| 9781529105100 | The Boy, The Mole, The Fox and The Horse | 492 | 29 |
| 9781761102943 | The Seven Husbands of Evelyn Hugo | 481 | 30 |
| 9780857526564 | Shrines of Gaiety | 480 | 31 |
| 9780733643354 | Marshmallow | 473 | 32 |
| 9780008547073 | All That's Left Unsaid | 465 | 33 |
| 9781761151521 | This Devastating Fever (Booksellers Choice Special Edition) | 461 | 34 |
| 9780857528865 | All The Broken Places | 461 | 35 |
| 9781847941831 | Atomic Habits | 446 | 36 |
| 9781476753188 | Ugly Love: A Novel | 438 | 37 |
| 9781761150470 | Love and Virtue | 430 | 38 |
| 9781526620163 | Stolen Focus: Why You Can't Pay Attention | 425 | 39 |
| 9781761042102 | Neil Balme: A Tale of Two Men | 423 | 40 |
| 9781472298638 | Isaac and the Egg | 413 | 41 |
| 9781460762622 | A Sense of Balance | 395 | 42 |
| 9781460755556 | Portrait of an Unknown Woman | 389 | 43 |
| 9780733648472 | Australia's Secret Army | 388 | 44 |
| 9781760984915 | Around the Table: Delicious food for every day by Julia Busuttil Nishimura | 384 | 45 |
| 9781760980061 | The Couple Upstairs | 380 | 46 |
| 9780645248043 | People who Lunch: Essays on work, leisure and loose living | 374 | 47 |
| 9780143778912 | Bluey: Little Library (Four books in one) | 370 | 48 |
| 9781529109474 | Ottolenghi Test Kitchen: Extra Good Things | 370 | 49 |