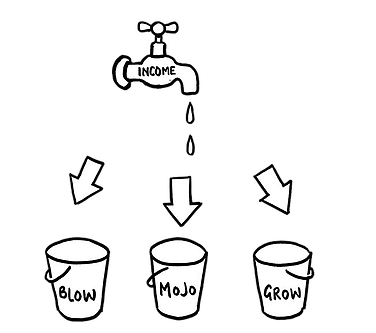 Budgeting for Bookstores, the Barefoot Investor Way
Scott Pape, author of the best-selling financial advice book The Barefoot Investor, urges readers to divide their income into 60 per cent 'safety', 20 per cent 'saving', and 20 percent 'splurge'.
In other words – to set up their buckets.
Viva Books have taken this method and applied it to the financial management of their bookstore.
Dedicating separate bank accounts (buckets) to specific expenses allows for real-time control of their costs. For example: If a popular new release results in overspending one month, reduced spending can counter-act this the following month.
In addition, Viva's bookkeeper saves time by using an estimated annual income to work out the percentage that is needed for each expense and distributing the funds (GST included) into the allocated bank accounts (buckets).
For example:
Say your bookstore generates an annual income of $70,000:
Fixed costs: x%
Variable costs: 5.5%
Wages and superannuation: 15.89%
BAS + GST: 2.66%
Stock: 59%
We want your feedback on a feature request:
Viva Books have proposed that Circle create a feature that will enhance bookshop's ability to budget and manage their expenses by breaking stock up into broad categories (i.e. books, gifts, and games) in the Backoffice reports.
This will ultimately provide a summary of purchases both at cost and retail prices, ensuring you won't overspend.
Email Lucy at sales@circlesoft.net if this is something you're in favour of, or not.