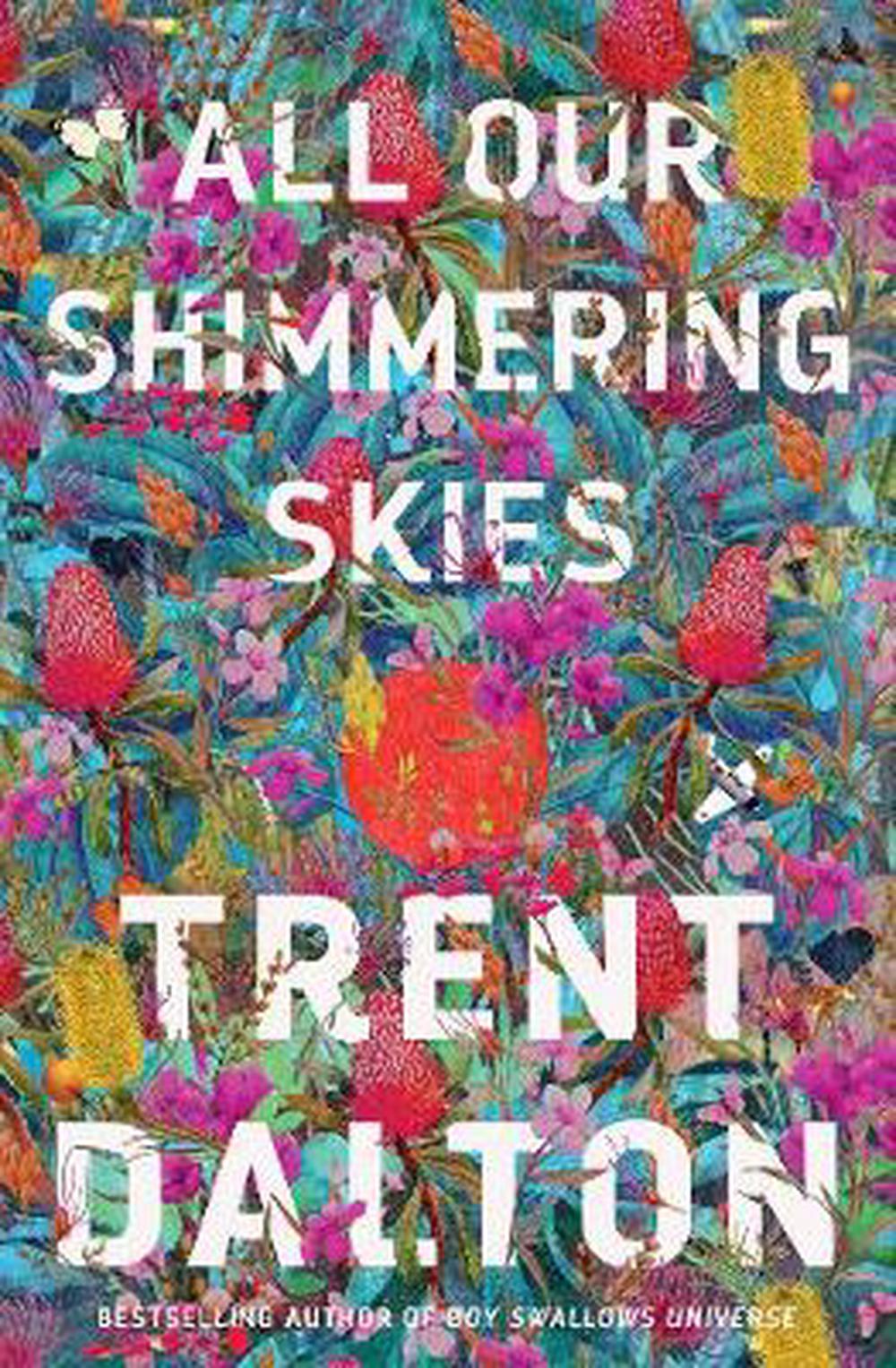 The bestselling author of Boy Swallows Universe, Trent Dalton returns to the top of the Bestseller list with All Our Shimmering Skies, selling an impressive 4402 copies (+ 2927).
The Survivors by Jane Harper holds its second spot with 2810 sales (+655).
Craig Silvey's Honeybee jumps to third place from 45th with 1912 sales (+1517).
| Cover (Barcode) | Title | Community sold | Rank |
| --- | --- | --- | --- |
| 9781460753903 | All Our Shimmering Skies | 4402 | 1 |
| 9781760783945 | The Survivors | 2810 | 2 |
| 9781760877224 | Honeybee | 1912 | 3 |
| 9781760899943 | The Living Sea of Waking Dreams | 1847 | 4 |
| 9780734418241 | Hollowpox: The Hunt for Morrigan Crow (#3 Nevermoor) | 1733 | 5 |
| 9781760786168 | The 130-Storey Treehouse (PB) | 1569 | 6 |
| 9781529108279 | A Life on Our Planet | 1153 | 7 |
| 9781785038938 | Ottolenghi FLAVOUR | 1131 | 8 |
| 9781529105100 | The Boy, the Mole, the Fox and the Horse | 935 | 9 |
| 9781760980085 | The Happiest Man on Earth | 915 | 10 |
| 9781460757154 | Phosphorescence: On Awe, Wonder and Things That Sustain You When the World Goes Dark | 863 | 11 |
| 9781409176985 | A Song for the Dark Times (Inspector Rebus #23) | 837 | 12 |
| 9781760559083 | The Two Lost Mountains (#6 Jack West Jr) | 810 | 13 |
| 9781760899929 | Let's Play Outside! (Bluey HB) (HB Magnet Book) | 739 | 14 |
| 9781760877415 | Trust (Martin Scarsden #3) | 736 | 15 |
| 9781472154668 | Where the Crawdads Sing | 710 | 16 |
| 9781760507855 | Windows (HB) | 653 | 17 |
| 9781787702400 | The Lying Life of Adults | 651 | 18 |
| 9781760668679 | The One?! (Bad Guys #12) | 641 | 19 |
| 9780751579949 | Troubled Blood (#5 Cormoran Strike) | 624 | 20 |
| 9781760893736 | The Godmothers | 622 | 21 |
| 9781787633629 | The Sentinel (Jack Reacher #25) | 600 | 22 |
| 9781460757765 | Boy Swallows Universe | 600 | 23 |
| 9780008382209 | What We'll Build: Plans for Our Together Future (HB) | 590 | 24 |
| 9781925972597 | The Dictionary of Lost Words | 562 | 25 |
| 9781338535624 | Grime and Punishment (#9 Dog Man) | 559 | 26 |
| 9781785043352 | Untamed: Stop Pleasing, Start Living | 523 | 27 |
| 9781760787677 | To Asia, with Love | 521 | 28 |
| 9780733335266 | The Golden Maze: a Biography of Prague (HB) | 491 | 29 |
| 9781760528768 | The Book of Two Ways | 490 | 30 |
| 9781460759486 | Killing Time: Short Stories From the Long Road Home | 475 | 31 |
| 9780702263224 | Call of the Reed Warbler (Revised Edition) | 472 | 32 |
| 9780141364087 | The Tower of Nero (#5 The Trials of Apollo) | 463 | 33 |
| 9781925972955 | The Grandest Bookshop in the World (HB) | 459 | 34 |
| 9780241984994 | Girl, Woman, Other | 453 | 35 |
| 9781760556730 | This One Wild and Precious Life | 433 | 36 |
| 9781529342338 | A Time for Mercy (#3 Jake Brigance) | 423 | 37 |
| 9781760899363 | Bluey: Grannies (Board Book) | 419 | 38 |
| 9781760876364 | Skydragon (#1 Skydragon) | 417 | 39 |
| 9780143785750 | The Yield | 410 | 40 |
| 9781921248016 | Dark Emu | 399 | 41 |
| 9780734420015 | The Illustrated Encyclopaedia of Dangerous Animals | 396 | 42 |
| 9781760897901 | Back to Sleep | 394 | 43 |
| 9781760857127 | Is This Anything? | 391 | 44 |
| 9780008355562 | Think Like a Monk: Train Your Mind for Peace and Purpose Every Day | 387 | 45 |
| 9781922330024 | A Room Made of Leaves | 387 | 46 |
| 9780143775058 | Supergood | 374 | 47 |
| 9781472283535 | Greenlights | 370 | 48 |
| 9781760784362 | A Year of Simple Family Food | 367 | 49 |
| 9781529059366 | The Fire of Joy: Roughly 80 Poems to Get by Heart and Say Aloud | 353 | 50 |
| 9781760893132 | Stalin's Wine Cellar | 351 | 51 |
| 9780733341069 | Love Clancy: A Dog's Letters Home, Edited and Debated by Richard Glover | 350 | 52 |
| 9781510202191 | A Tale of Witchcraft (#2 A Tale of Magic) | 348 | 53 |
| 9781776572984 | Egg and Spoon: An Illustrated Cookbook | 345 | 54 |